field trips & group visits

Learning and fun rolled into one field trip! Unleash your student's imaginations with an educational and entertaining field trip.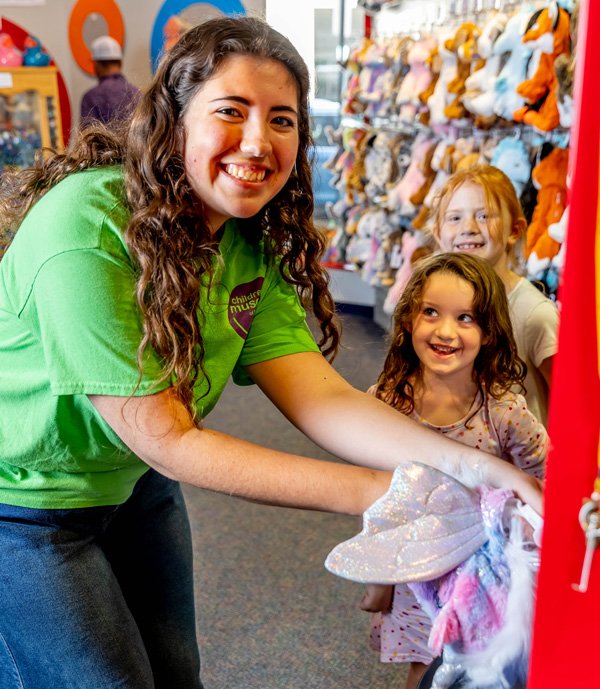 Museum staff will welcome and give a brief orientation to you and your group before we unleash you and the adult chaperones into the museum to explore and play your day away. Three floors of interactive exhibits are at your finger-tips.
Some of the requirements for a field trip are:
10 people or more to get our discounted field trip rate of $6/student
Unlimited chaperones and teachers are free with a 1 active adult chaperone to every 5 students ratio
Museum memberships CANNOT to be used for field trips
90 to 120 minutes is best timeframe; more = bored/destructive kiddos
Our target sweet spot of an audience is 3-8 year olds
Payment is due on the day of field trip or we can invoice you; but it MUST be one payment for the day
field trip FAQs:
How do we schedule a Museum field trip?
Call (608) 784-2652 Monday through Friday.
Email andrea@funmuseum.org with your completed Field Trip form.
Watch for your email confirmation; call if you have further questions.
When can we visit?
1½ to 2-hour field trips are scheduled on first-come, first-serve basis during the Museum's open hours (early access may be possible upon request). See already booked field trips on our calendar.
Are there any discounts for low-income groups?
Most years, the Children's Museum secures grant funding to support schools/groups with large populations of economically disadvantaged families. Call or email to inquire about eligibility and availability.
Can we have lunch at the Museum?
Schools may reserve our lunchroom for $35 for up to 2 hours. Groups with more than 30 will have to rotate. Please reserve at least 48 hours in advance.
Why the 1 adult chaperone to 5 students' ratio?
At all times while at the Museum, chaperones are expected to facilitate appropriate behavior and help with our Museum Manners:
Respect the museum/exhibits, others in the facility and each other.
Use walking feet at all times.
Chaperones/kids are to be able to make eye contact and remain on the same floor. Move floors together, no kids in the FUN shop or on elevators without an adult.
No food/beverages (besides water) on the floors of the museum. Food must remain in the party room only; if that space is reserved with your group.
Where should we pick up and drop off our group & park during our visit?
Buses/Vans should drop off and pick up in the alley at the rear of the Museum (look for the green stripe on the building).
Do not block traffic in front of the museum on 5th Avenue S.
Vehicles may NOT remain in loading area during field trip.
Please turn off engine while unloading/loading.
All members of group must use entrance at rear of Museum.
Vehicles may use 2-hour street parking or parkin the Market Square Ramp (enter from Jay Street between 4th & 5th); details about ramp parking can be found here.
NOTE: Parking is not allowed in the private King on 5th and Cathedral parking lots behind the Museum; cars will be towed.
Do you have a gift shop?
Why YES we do, we call it the FUN Shop! During your visit, we would love you to explore the fun and educational items we have. Please note, adult supervision is required.
Educators get 10% off gift shop purchases!